Milestones refers to certain criteria in Godus which provides the player with numerous benefits, these milestones changing as the game progresses.
At first these milestones are based on reaching certain levels of Followers, this changes once Farming has been researched the milestones changing to the amount of wheat harvested.
Presumably this will continue to change as your Followers move through time various Time Periods.
Population Milestones
Edit
| Milestone | Card Name | Card Type |
| --- | --- | --- |
| 2 | Land Expansion | God Card |
| 6 | Land Expansion | God Card |
| 20 | Land Expansion | God Card |
| 30 | Construction Card | Science Card |
| 50 | Land Expansion | God Card |
| 70 | Land Expansion and Commandments | God and Faith Card |
| 90 | Land Expansion | God Card |
| 130 | Land Expansion | God Card |
| 220 | Mud Brick Lodges | Society Card |
| 270 | Land Expansion | God Card |
| 320 | Land Expansion | God Card |
| 380 | Family | Society Card |
| 480 | Moving Plots | God Powers |
| 630 | Cliff Sculpting 1 | God Card |
| 800 | Stone Cottages | Society Card |
| 1000 | Pottery | Science Card |
| 1300 | Craftsmanship | Science Card |
| 1700 | Cliff Sculpting 2 | God Card |
| 2100 | Manors | Society Card |
Farming Milestones
Edit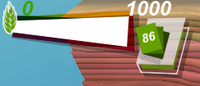 | Milestone | Card Name | Card Type |
| --- | --- | --- |
| 1000 | Town Planning | Society Card |
| 5000 | Politics | Society Card |
| 10000 | Debate | Society Card |
| 15000 | Ploughs | Science Card |
| 20000 | Terrace Farming | Science Card |
| 30000 | Salt Farming | Science Card |