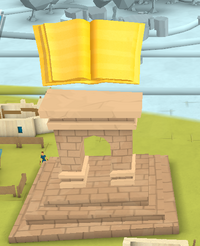 The Mount of the Gods is a Temple that you can rebuild using your Followers.
Since the release of v2.0 the Mount of the Gods had disappeared from the game.
Once the Temple has been rebuilt then you are able to play against various different VI's like xAmyx which are there to basically teach you how to play against other players. Once a certain point is reached the player must have reached the Bronze Age before they can play more maps.
Before each map begins the player and his opponent can change the initial amount of Followers they are to take into the map. As yet this does not affect the rewards at the end of a match however it is known later that the more Followers you take into play the less rewards you will be given for winning.
Each map you play gives you various rewards with a number of objectives available to win a match. These being mining the most Gems, building the largest Population or destroying all other Followers of your opponent. The rewards being new Technology Cards, God Cards, Gems and new Followers as well as Resource Cards
Each map has its own time limit, some of the maps being known as: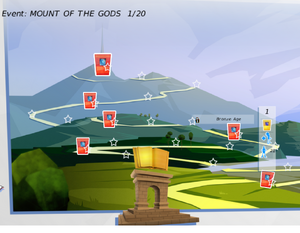 Mount of the Gods Interface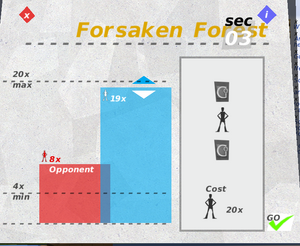 Pre-battle interface.
Forsaken Forest.
Hidden Valley.
Important rewards so far for each milestone are:

1.Wildman Card, Calendar Card

2.Follower Tribe Card, Copper Idol Card

3.Statue of Speed Card, Small Mineral Rock Card

4.Multiplayer Opponent Card, Copper Idol Card

5. Architecture Card

6. Wildman Card

7. Champion God Card, Large Mineral Card

8. Samson Card

9. Multiplayer Opponent Card

10. Battle Hardened Card

11. Wildman + Samson Card

12. Multiplayer Opponent and Silver Idol Card

13. Small Mineral Deposit and Shoes Card

14. Wildman and Golden Idol Card

15. Golden Idol and Follower Clan Card

16. Samson and Cartography Card

17. Cliff Sculpting 3 Card

18. Platinum Idol Card

19. Multiplayer Opponent and Large Mineral Deposit Card

20. Platinum Idol and Village Card