Removed!
This page or section refers to content that was removed from the game.
This page is a candidate for deletion
Please discuss on this article's discussion page if you have an opinion on the deletion of this article.
Administrators, please check what links here and the page history before deleting.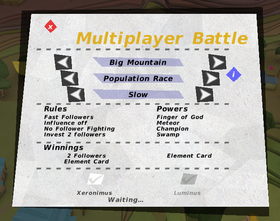 Multiplayer battles are available when the player has dug up and repaired the Temple of Multiplayer, and currently can only be played against friends on the player's Steam Friends List. It is a simple matter of clicking on the Multiplayer temple once repaired and waiting for the "invite friends" dialog to show up. Game speed can be set to determine how fast or slow population and belief accumulate.
Maps
[
]
↑

Armageddon battles have a time of 36:30 instead on the Big Mountain map. The others are 60 minutes.