Tree of Joy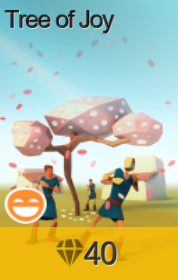 Tree of Joy is a Divine Gift that adds happiness to your Followers. Once built it can be used every 10 minutes to increase the people's Happiness.
A Tree of Joy located next to some fields.                                         Followers enjoy festive Hanami (flower viewing).
As of version 2.1 the Tree of Joy Divine Gift is unlocked as soon as Gems are introduced.
Trees of Joy will make your Followers happy.